---
Primary Areas of Expertise
---
Weather and Meteorology
---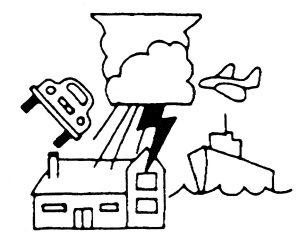 In many areas of litigation, weather factors can be crucial, sometimes decisive factors in establishing liability and the size of a reasonable settlement. As a Certified Consulting Meteorologist and expert witness with over 30 years of professional experience, including extensive experience providing testimony at trial and depositions, I can be a great ally to plaintiff and defendant alike, in separating fact from fiction, and reconstructing what actually happened.
The following areas of specialization are provided:
Identification of weather issues relevant to the matter at hand
Analysis of marine, coastal, urban, mountain, desert and local weather conditions
Reconstruction of weather and sea conditions for accidents and Personal Injury (P.I.) investigations
Determining when weather or sea conditions impact aviation, boating, auto and building construction issues
Comparisons of observed to normal conditions
Determining if observed conditions were foreseeable
Estimating degrees of unusualness
Selection, acquisition and evaluation of data that is representative of conditions at the time and place of interest
Experienced Trial testimony, depositions, reports and analyses
Weather factors in marketing and industry analyzed
Weather and climatic planning for travel considerations, renewable energy and homeland security
Services: 
Event Reconstruction
Expert Testimony at trial or deposition
Reports
Site Visits to determine issues of exposure, terrain
influence and data relevance
Certified data acquisition that is representative of time and location of interest
Education:
 Masters Degree (M.A.) in Meteorology, University of California at Los Angeles,
U.C.L.A., Department of Meteorology.
 Bachelor's degree (B.A.) in Meteorology, New York University (N.Y.U.),
Department of Meteorology and Oceanography.
 Nine credits in Broadcasting, Los Angeles City College, Los Angeles
Graduate with "Science Major" from Stuyvesant High School in New York City
(rated in top five nationally among over 14,000 high schools in America)
Various training in satellite data interpretation, radio/radar meteorology, air pollution
meteorology and management techniques.
United States Small Business Administration (SBA) Certificate of Executive
Training: Track One-Management & Marketing; Awarded to Air, Weather & Sea
Conditions, Inc.; Alabama A&M University Research Institute; February 2005
American Meteorological Society Short Course: Forensic Meteorology: Principles,
Practices and Procedures – Invited Presenter, 9 January 2005
Various courses in Incident Management/Unified Command; Incident Command
System/NIMS; Operational WMD (Weapons of Mass Destruction) Response; and
Computer-Aided Management of Emergency Operations (CAMEO); ICS 300, 400
(Advanced ICS Command and General Staff-Complex Incidents); Radicalization of
terrorist groups, Event Action Plan class.
Additional Information: